---
The Hyundai Sonata is a stylish midsize sedan that's loaded with the latest safety and infotainment features. Is it an efficient car, though? Maguire Hyundai finds out. We looked at the 2021 Hyundai Sonata MPG so drivers and families in Sayre, PA, and Ithaca and Vestal, NY, will know what kind of fuel economy it's capable of.
---
Hyundai Sonata Fuel Economy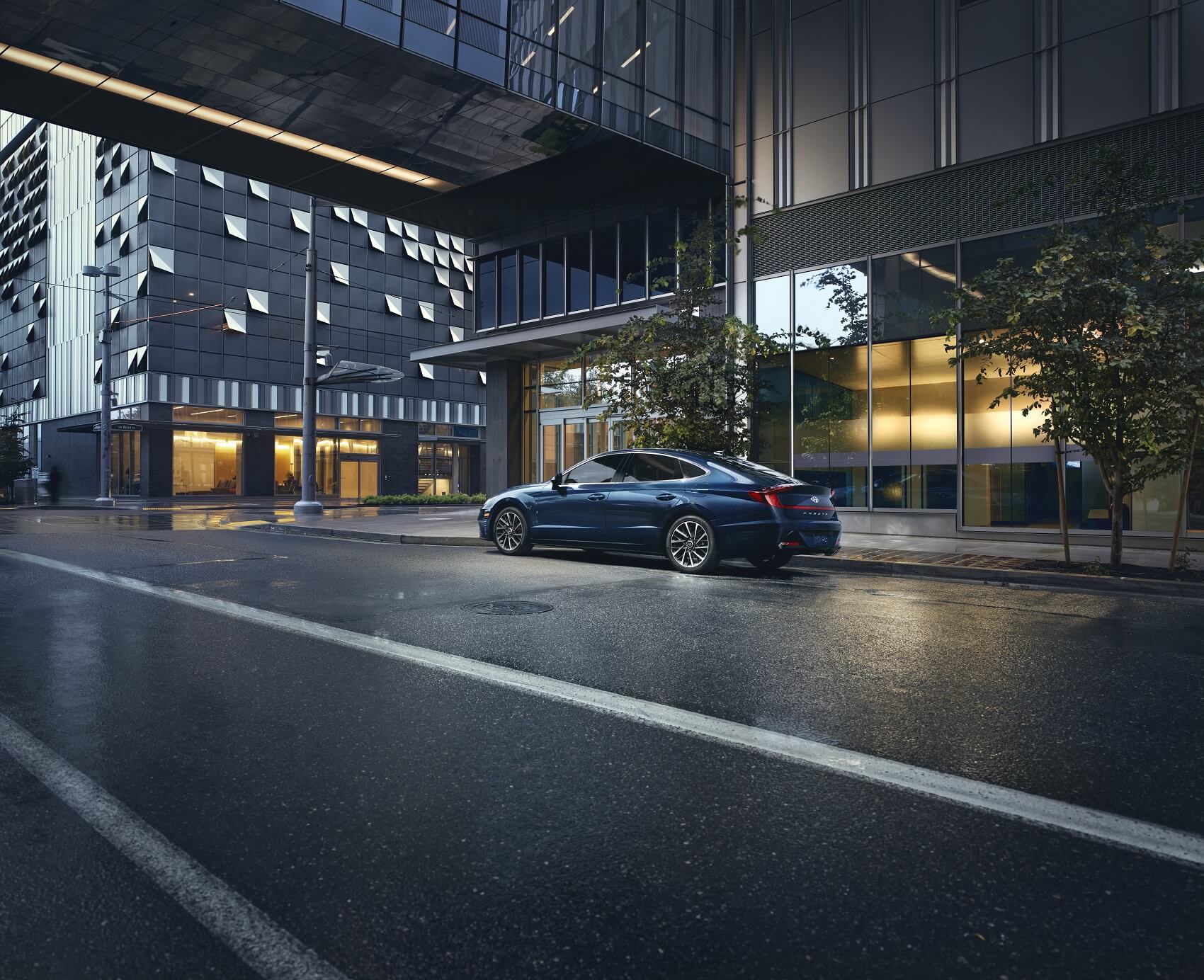 The 2021 Hyundai Sonata can get up to an EPA-estimated 28 city and 38 highway MPG. It achieves this impressive fuel economy with a standard 2.5L GDI 4-cylinder engine. This powertrain was designed to give you clean production and increased efficiency with Continuously Variable Valve Timing (CVVT).
Your trim level determines which engine you'll have under the hood. In the Sonata SEL Plus and Limited, you'll have a 1.6L Turbo GDI 4-cylinder engine that can get up to an EPA-estimated 27 city and 37 highway MPG.
The Sonata N Line is the most performance-inspired trim. To provide you with a sporty and exciting drive, it's powered by a 2.5L Turbo MPI/GDI 4-cylinder. This engine offers lots of power as well as an EPA-estimated 23 city and 33 highway MPG.
---
Hyundai Sonata Efficient Design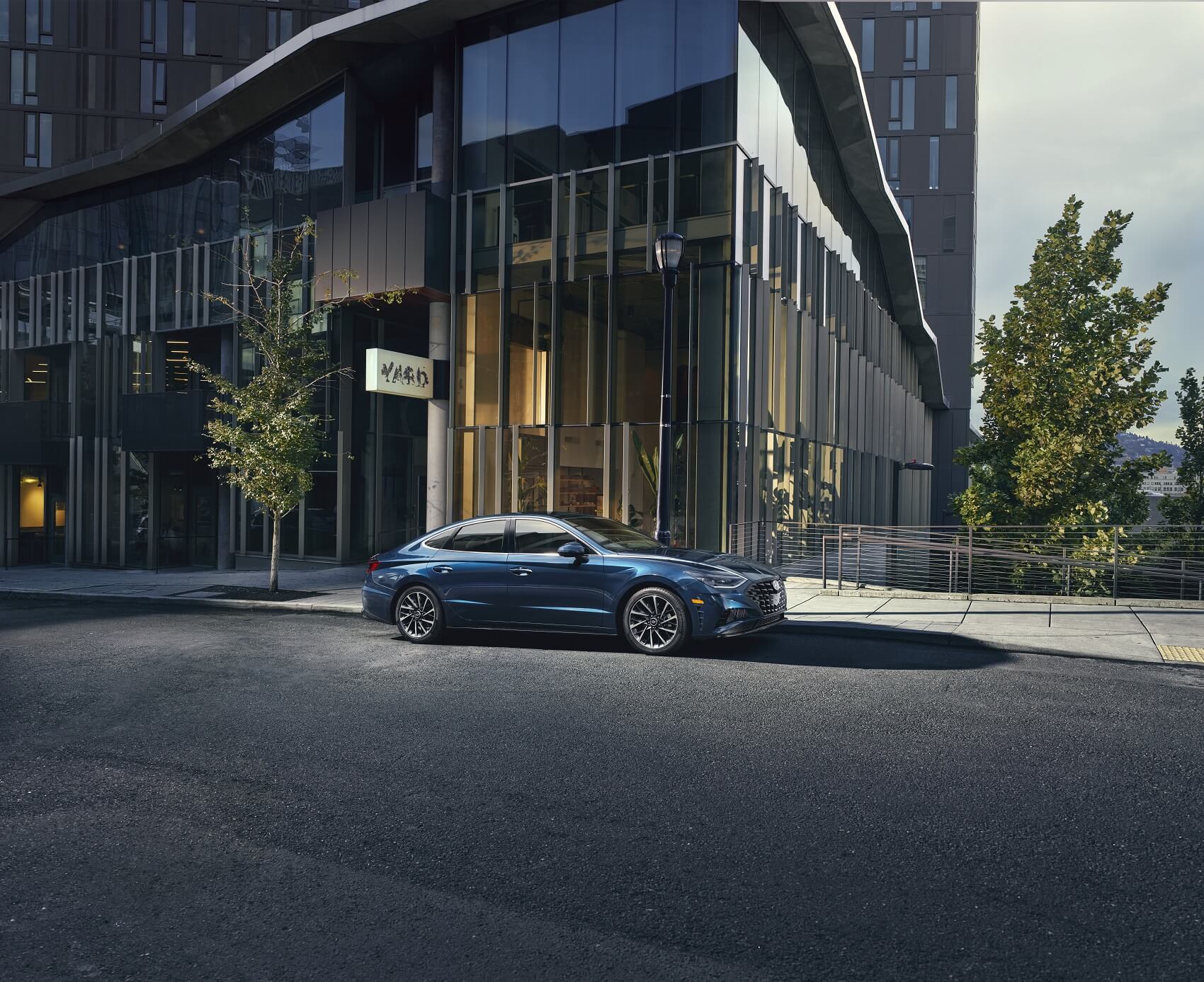 The Hyundai Sonata has a sleek, stylish design that both looks great and helps with aerodynamics. Its bold front grille doubles as a large air intake. From there, it transitions to a set of streamlined accents on the hood and along the doors.
Overall, this sporty sedan stands 56.9 inches tall, 73.2 inches wide, and 192.9 inches long. That gives it great handling with a low center of gravity and its rounded edges give it a low drag coefficient. Underneath, the base trim features a 14.8-gallon gas tank, while the other trim levels can carry up to 15.9 gallons of gas.
Another benefit of its design is its curb weight of 3,120 pounds. With a light, aerodynamic design, large fuel tanks, and a choice between three efficient powertrains, you'll be able to drive for a while in between stops for gas.
---
Fuel-Saving Features

The Hyundai Sonata is also available with features that'll help you get more miles out of your gas tank. For example, the base trim is equipped with Idle Stop & Go. It saves gas by turning the engine off when you come to a complete stop. Once the light changes or traffic starts moving again, it automatically turns it back on so you can get moving.
Another way the Sonata makes your drive more efficient is with Drive Mode Select. This lets you customize your drive with selectable driving modes. Eco Mode adjusts the throttle and other features to make your drive as efficient as possible.
If you're on the highway or taking a long drive, you can boost your MPG numbers by flipping on standard Smart Cruise Control with Stop & Go. This intelligent feature takes cruise control to the next level. Not only can it maintain your speed, but it also monitors traffic ahead of you and can reduce your speed or stop your car if traffic slows down or comes to a standstill.
---
Efficient Technology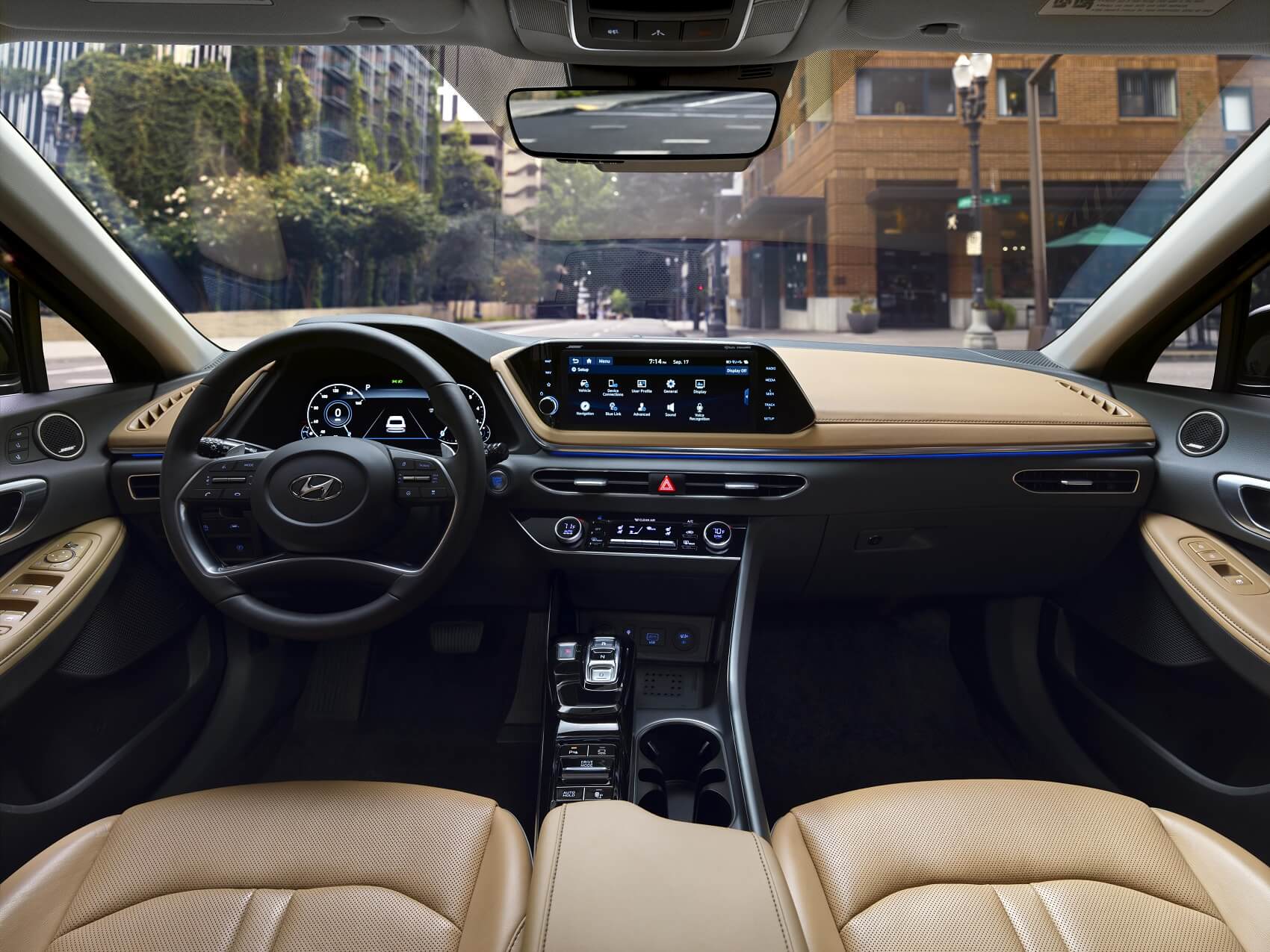 The Hyundai Sonata even offers technology that can help you check your fuel levels and search for the nearest gas station. Download the Blue Link® Connected Car Service app and you'll be able to use your phone to see how much gas you have.
If it looks like your car is low, you can search for gas stations nearby, send the address to your navigation system, and get turn-by-turn directions.
---
Performance Specs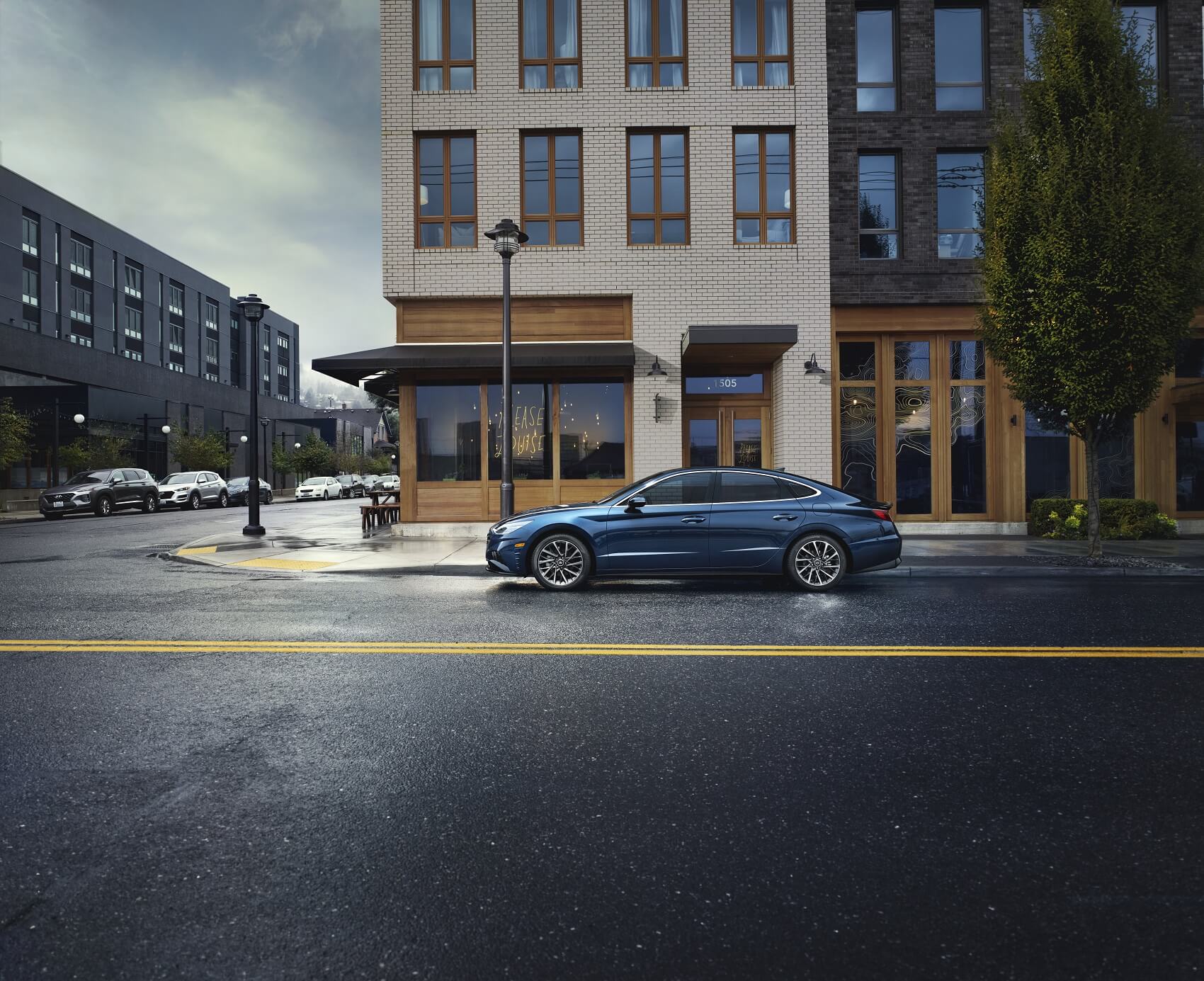 This efficient midsize sedan offers a trio of reliable engines. First up, there's a 2.5L GDI 4-cylinder that produces up to 191 horsepower and 181 lb-ft of torque. Next, you can enjoy a lively drive with a 1.6L Turbo GDI 4-cylinder that delivers 180 horsepower and 195 lb-ft of torque. Both engines work with an 8-speed automatic transmission.
A larger and more powerful engine is also available to give you a more exciting drive. It's a 2.5L Turbo MPI/GDI 4-cylinder that gets up to 290 horsepower and 311 lb-ft of torque. This engine also features an N 8-speed Wet Dual Clutch Transmission with paddle shifters that gives you more control over your drive.
---
Hyundai Sonata Hybrid MPG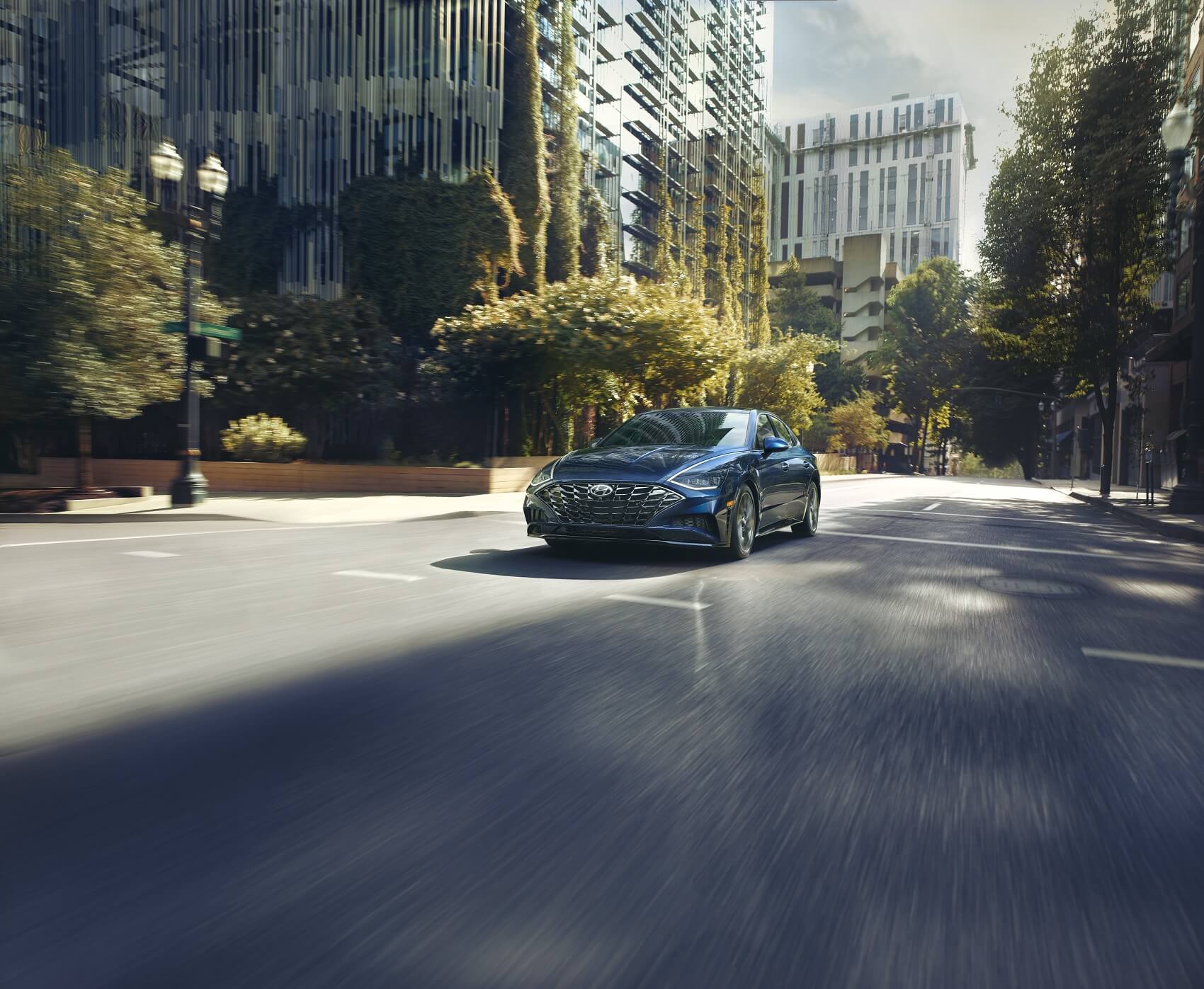 Drivers who are interested in an even greener ride should consider the 2021 Hyundai Sonata Hybrid. It gets up to an EPA-estimated 50 city and 54 highway MPG. Under the hood, it combines a 39-kilowatt electric motor with a 2.0L GDI Atkinson Cycle 4-cylinder engine. Together, they deliver up to 192 total horsepower.
This hybrid sedan sports the same design as its gas-powered counterpart, but its .24 drag coefficient isn't the only thing that makes it so efficient. The roof is available with a built-in solar panel that charges the batteries while you drive. It also features regenerative braking that converts kinetic energy to increase your driving range.
---
Learn More About the MPG for the Sonata
Visit Maguire Hyundai to test drive the stylish and efficient Hyundai Sonata. It offers great fuel economy to drivers in Sayre, Pennsylvania, and Ithaca and Vestal, New York. To learn more about the 2021 Hyundai Sonata MPG, contact us or visit our dealership.
---